Robert Lindsay & Co
Lilliehill Fire-Clay and Terra-Cotta Works, Dunfermline
by George Beattie

Robert Lindsay, who was a native of Penpont, near Thornhill, Dumfriesshire, came to Dunfermline around 1860, when he was appointed manager of the well-known Lochhead Fire Clay Works on the north side of the town. He had gained considerable experience, firstly at the Garnkirk Fire-Clay Works in Glasgow, and afterwards with Barnpark Fire-Clay Works at Tranent. He remained at Lochhead for six and a half years, contributing much to these works.
In the 1861 census Robert, then 28 years of age and designated as Manager of a Brickworks, is residing at Chalmers Street, Dunfermline, with his wife, Mary, (37), daughter Mary, (4) and sons William (2), and Robert (11 mths). His next door neighbour is almost certainly his brother, James Lindsay, 24 years, a Chimney Can Maker, residing there with his wife, Violet, (26), and daughters, Elizabeth, (3), and Margaret, (1).
In 1867, in partnership with a Mr W. Anderson, from Dundee, Robert Lindsay founded Lilliehill Fire-Clay Works on the north/east side of Townhill (site now occupied by Wm Russell, Scrap Merchants). Initially the business traded as Lindsay & Anderson but the partnership appears to have been dissolved as by 1880 it was trading as Robert Lindsay & Co.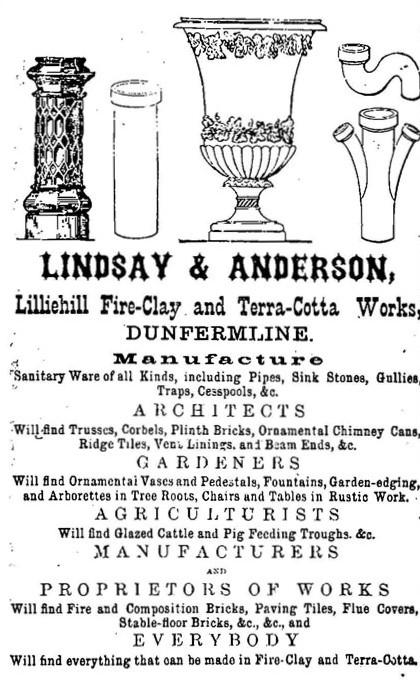 Endowed with a large amount of energy and great business qualifications, Robert Lindsay soon raised the new undertaking at Lilliehill to a prominent position among industries of a similar nature.   Advertisements of the day, such as that below, clearly indicate that, in addition to normal building bricks, the firm was turning out many different fire-clay and terra-cotta products which were sent all over Great Britain and the continent of Europe.
Henderson's Annals of Dunfermline, Page 687, states that Messrs Lindsay & Anderson began the Lilliehill Fire Clay & Terra Cotta Works on 7th May, 1867.  Henderson also states that by 1875 some 100 persons were employed at these extensive works.  Terra Cotta work of the finest quality was then manufactured; sewerage pipes, fire bricks and many other articles made from clay are turned out in large quantities, and sent to the most distant parts of the Kingdom, as also to Sweden, Norway, Denmark, and ports on the Black Sea, etc.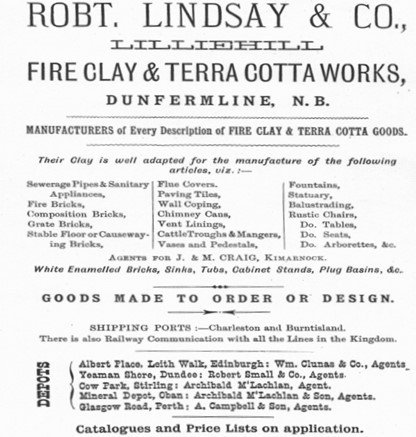 According to the 1871 census Robert and family had moved to a house in Downieville Crescent (at the south end of Townhill Road), Dunfermline. Robert is then designated as a Fire Clay Manufacturer, employing 43 men and 10 boys. It was still a family concern as James Lindsay was by then the works manager. It was also evident from the census records that a number of the men residing in the houses at Lilliehill, and employed at the works, had originated the Tranent area and had obviously followed Mr Lindsay to the Dunfermline area.
By the time of the 1881 census it is apparent that the Lilliehill business is a thriving concern, as Robert has had built for himself a large and imposing house, known as Tighvonie House, on the north side of Rose Street, Dunfermline. The presence of Agnes H. Fotheringham, from Saline, a general servant in the household, suggests the well being of the family at that time. Tighvonie had been built in 1879 and incorporates many pieces of ornamental fire-clay made at Lilliehill, including animal heads, etc., which are still in excellent condition some 130 years later.
Sadly, Robert Lindsay did not have long to enjoy his new house, as he died in 1882, aged only 49 years. Although not a native of Dunfermline, Mr Lindsay, by his sheer enthusiasm and genial manner had, in the relatively short time he had been in the town, made his mark on many community and in local authority matters, as is made clear in his extensive obituary in the Dunfermline Press, reproduced at the end of this article.
Robert's brother, James, only carried on as manager of the brickworks until the following year when he resigned in anticipation of moving from the area.   He had also been held in high regard by the workforce and was presented with 20 gold sovereigns at a function to mark his resignation.   James had been at Lilliehill for 16 years.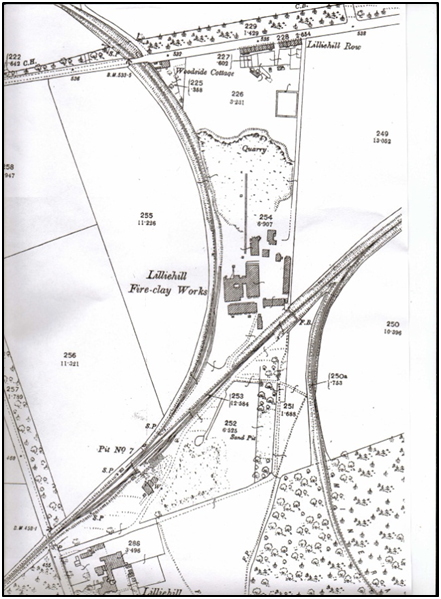 Shortly after James left the firm the business was bought by the Kilmarnock based firm of Messrs J. & M. Craig.   The business carried into the early 20th century under the management of Mr William Christie, before closing at the start of the First World War.  Such was the esteem Robert Lindsay was held in locally the following poem was penned by 'a sympathiser' following his funeral on 12th October, 1882:-
Robert Lindsay's obituary in the Dunfermline Press of 14th October, 1882, described him thus:- "Mr Lindsay joined to his active business habits and indomitable perseverance, a deep interest in the prosperity of the city and county of his adoption – an interest which found expression in various ways for the general good. Ever ready to give his service where wanted and well versed in municipal politics, Mr Lindsay was, in 1875, induced to accede to the request of a large number of the ratepayers to represent their Ward in the Town Council; and, during his three terms of office, he did much to forward many of the important schemes which the council had then on hand. In particular, he laboured earnestly to make the Glendevon water scheme the great success which it has since been. Genial in disposition, and a great admirer of healthy sports and recreations, our deceased friend's familiar form was well known on many a stream and loch in Scotland where the disciples of Isaac Walton loved to follow the gentle art; as well as on not a few fields where the athletes of Scotland contested for the supremacy. His love of animals as well as human nature found fitting expression in the local and other ornithological societies, at whose annual exhibitions he was a frequent contributor, and he latterly occupied the honourable position of president of the local Society. As R.W.M. of St. John's Lodge, Dunfermline, Mr Lindsay took a prominent part, along with the Provincial Grand Master of Fife, Mr Whyte-Melville, in laying the foundation stone of the New Corporation Buildings; and by all the brethren of both the St John's and the Union Lodge was much respected and esteemed for his many social and fraternal qualities. Conservative, or rather old Whig in politics, Mr Lindsay took much interest in the several elections which have taken place in the Burghs and County since he came to Dunfermline, and at the last election he took an active part in promoting the candidatures of Captain Oswald of Dunnikier for the County, and Sir James Gibson Maitland for the Burghs – both of whom, however, were unsuccessful. Possessed of much genuine humour, and a great admirer of our national poets, Mr Lindsay was early led to cultivate the poetic Muse, and was a frequent contributor to the Dunfermline Press and other provincial newspapers, and many of his effusions have already gained more than local fame. Not a few of the clubs and societies in Dunfermline found in him a warm supporter, and his beaming countenance and hearty co-operation will be long missed in such societies as the Celtic and the local Parliamentary, as well as on many a well contested curling rink. It has been said of him by one who knew him well, that while he made many friends wherever he went, he made no enemies, as remark the truth of which was amply verified by the large numbers who followed his remains to their last resting place on Thursday – many of whom came by long distances by railway to pay their last respects to their departed friend. Much sympathy is felt with his wife and family in their sad bereavement."