GEORGE ROBERTSON, (FSA Scot) – (1835-1916)
"Keeper of Dunfermline Abbey and Palace"
By George Robertson.
Perhaps, before going further, it should be said there is no family relationship between the subject of this article and the author. My interest in George Robertson, (FSA Scot), began some years ago when, during research into other people, places and events pertaining to Dunfermline, his name appeared on a regular basis. Naturally, due to the names being the same, the question arose, who was this other George Robertson?
George was born during 1835 in Dunfermline, the second eldest in a family of six children born to Robert Robertson and his wife Susan Spittal. Robert was a draper, with shop premises at numbers 2 and 6 Bridge Street, Dunfermline. (1)
Details of George's early life are few and we have to rely on official documents to gain some idea of this. The 1841 census for Dunfermline shows him living with his parents and two brothers in Bridge Street, Dunfermline, with father described as a draper. The 1851 census then shows the family have moved and are living in the village of Limekilns and George, now fifteen years old, has three brothers and two sisters. His father is again described as a draper, employing 15 men. George and his older brother Peter are also shown to be drapers, no doubt working for their father. At the time of the 1861 census we find the family have again moved this time to North Queensferry, where George and his younger brother Robert are living at Dean Cottage with their parents. George is shown to be a shop-man, indicating he was employed in his father's shop, probably serving customers.
There is evidence during those early days George showed an aptitude for literature and art and this was evidently inspired and directed by another Dunfermline historian – Ebenezer Henderson, (1809-1879) – author of the "Annals of Dunfermline". Henderson encouraged George to take an interest in, and become devoted to, all aspects of the ancient life of Dunfermline. It is said "while friends and associates, much less gifted than himself applied all their energies to worldly attainment he showed far more zeal as a lover of Dunfermline, of its historical associations and antiquarian relics, than as a seeker of personal attainment". (2) The "Annals" provides us with a perfect example of George's artistic ability since it was he Henderson asked to provide sketches for the book. There are at least eleven examples of these sketches, which are found on pages 8, 70, 219, 266, 289, 294, 297, 301, 437, 438 and 579.
The sketch shown on page 266 of the "Annals" is of interest as it depicts the "Golden Rose" stone. The stone was uncovered during 1859 when work was being carried out on the external walls of the Golden Rose Tavern which once stood on the north side of High Street, a short distance west of the junction with Douglas Street. Some fifteen years later, when the building was being demolished to make way for what was then the British Linen Bank – opened in 1876 – the stone was acquired by John Landale, the bank agent, who passed it to George, who was at that time building a house in what was then known as Comely Bank, now Park Avenue. George had the stone installed on the inside of the north boundary wall of the property, where it remains to this day. The origin of the stone, which shows the words "Golden Rois", a rose, two bearded faces, the date 1609 and a shield depicting a bird, six arrows and a five pointed star, is uncertain, having possibly been rescued from an earlier building prior to being placed on the wall of the tavern. There is a theory the stone represents the gift of a golden rose, which had been blessed by a Pope, to some highly favoured person, perhaps connected with Dunfermline Abbey. However, this has never been proved conclusively. (3)
To return to George, he had an aptitude for poetry, examples of which can be found in his poems – "A Song of the Burns Centenary – January, 25th, 1859", which relates the story of the Burns Centenary celebrations in Dunfermline, and the "The Wreck of the John Beaumont", telling the story of the wrecking in December, 1878, of the ferry boat of that name, at North Queensferry. Although not quite up to Burns standard, these poems are descriptive and of course, written in the Scottish vernacular, are well worth reading. He also wrote poems and songs, using the nom de plume "Josh McCrae, Tinkler" and these were much appreciated by his fellow citizens and students of the Scottish dialect.
However, George also had more worldly matters to take his attention when on 18th June, 1862, he married Janet Balfour, at Dunfermline. Janet was the daughter of Andrew Balfour and Sarah Moir. Andrew was well known in Dunfermline, he being the builder responsible for the construction of Gillespie Church, completed and opened during November, 1849, and the erection, during June, 1849, of the statue in memory of the Rev Ralph Erskine, which was placed opposite Queen Anne Street Church, where it stands to this day. Andrew Balfour was also responsible for the repairs to the Abbey Nave which involved work carried out on the pillars, roof, windows and walls. The work on the Nave began during 1847 and continued into 1848. (4) Sadly, Andrew died suddenly at his home in Schoolend Street, Dunfermline – now Pilmuir Street – during 1858, his wife Sarah having predeceased him, she having died during 1847. (5)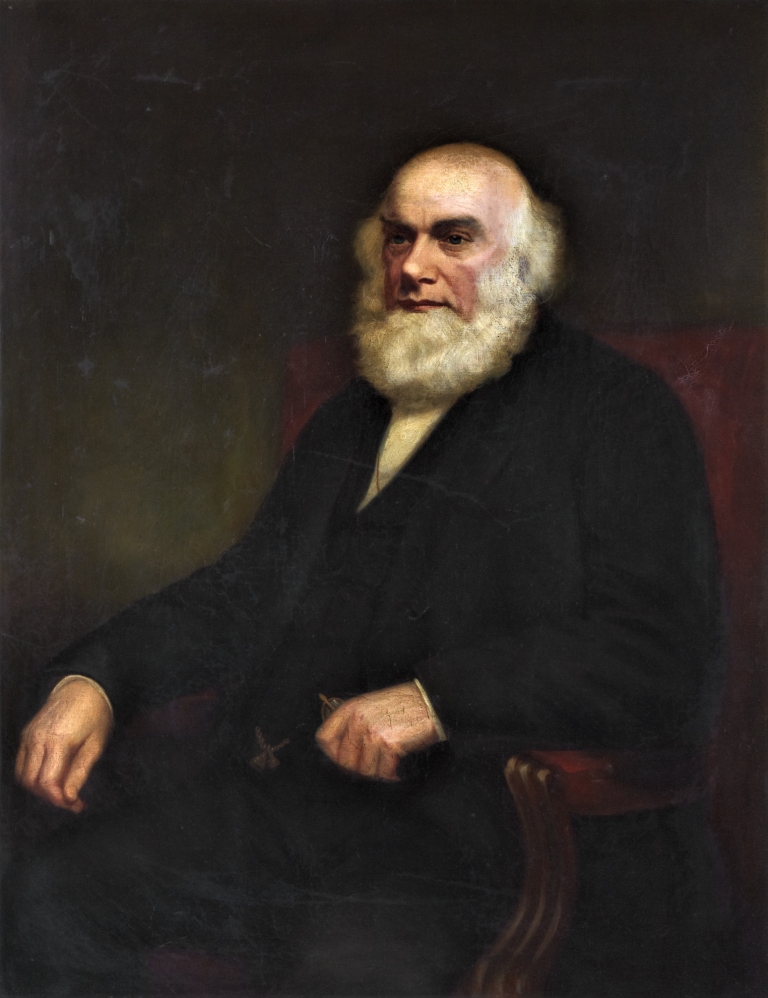 To move for a moment from local issues, it should be noted, during 1859, it was believed Britain was in danger of being invaded by France.   This fear originated due to the fact France had recently become involved in a war with the Austrian Empire and it was thought Britain was next in line for a similar attack.   This resulted in the British War Office sanctioning the formation of Volunteer Corps throughout the country with a view to augmenting the existing British Army.   The men of Dunfermline responded to this call to arms and on 2nd November, 1859, a petition was presented to Provost Robert Robertson – George's father – requesting a local Volunteer Corps be formed.   The petition was heeded and on 14th November, at a meeting held in the Music Hall, Dunfermline Rifle Volunteer Corps was formed.   George was one of the original volunteers and at a Corps meeting held on 4th January, 1860, he was appointed to the rank of Ensign of the Corps 2nd Company.   Within a short period of time, George was promoted to Lieutenant and then to Captain and Quarter Master. The first Captain of 2nd Company, appointed at the same time as George, was Kenneth Mathieson, whose son, also named Kenneth, was, as we shall see later, to marry George's daughter Sarah. (6)
To return to George and Janet, the 1871 census shows Janet living in Viewfield Place, Dunfermline with her five children, born between 1863 and 1870, plus one female servant and a nursery maid, obviously there to assist with the youngest child, George, aged nine months. However, there is no sign of George living with his family. A search of the 1871 census for Scotland has failed to locate him and it is assumed he was either missed out when the family details were noted or, more likely, he was at that time elsewhere in the United Kingdom, perhaps on a business trip
George's parents are recorded in the 1871 census at Bruce Street, Dunfermline, with Robert shown to be a draper and tailor employing a salesman, seven boys, twelve tailors and three boys – however, it should be pointed out the census entry is indistinct and these details could be incorrect. Also recorded at the address is daughter Agnes, now 25 years old and son Robert, aged 22, who is shown to be a manufacturer's clerk. The family employ a housekeeper, a cook and a housemaid However, later that year tragedy struck the family when on 11th October, at Dean Cottage, North Queensferry, Robert Snr. died. It should be noted, not only was Robert a businessman in Dunfermline he was also involved in politics, having been Provost of the town between 1854 and 1861. In addition, on the death, during 1864, of Robert Hay, of the linen manufacturing firm of Hay and Robertson, he had formed a partnership with William Robertson of that famous firm, this partnership continuing until Robert's death. (7)
Mention was made earlier about George and his interest in all things Dunfermline and this continued unabated.   He wrote articles for newspapers published in Dunfermline, Edinburgh and Glasgow and exchanged letters with his great friend Ebenezer Henderson, particularly during the years Henderson was researching his seminal book "Annals of Dunfermline", published during 1879.   In these letters, George willingly passed on his knowledge of Dunfermline's history, much of which Ebenezer made use of in the book.    As has been indicated George and Ebenezer were great friends and on the latter's death, on 2nd November, 1879, at his home in Muckhart, Clackmannanshire, George wrote a fulsome obituary, which appeared in the Dunfermline Press newspaper dated 8th November.  
George's interest in the history of Dunfermline and his willingness to share this knowledge was recognised by the Society of Antiquaries of Scotland and during 1879 he was invited to become a Fellow, an invitation which he accepted. This was followed in May, 1880, by George being appointed by H.M. Board of Works as Keeper – sometimes described as Custodian – of Dunfermline Abbey and Royal Palace. What George's duties consisted of is unclear but it is assumed he would be responsible for inspecting the fabric of the buildings and reporting any defects which had developed. In addition, he would provide guided tours of the buildings. However, it should be pointed out this was a voluntary appointment, George being content to attend to the duties of Keeper in his leisure time, he still being very much involved in the family drapery business.
In his position as Keeper, George gave a guided tour of the Abbey and Palace to HRH Princess Mary, Duchess of Teck and her family, including her thirteen year old daughter Mary, the future Queen Consort of King George V.   This took place during a visit the Royal party made to Dunfermline on the 22nd of October, 1880.   Prior to leaving Dunfermline to return to Hopetoun House, the Duchess and her party enjoyed tea at St Margaret's Hotel, George being invited to join the group.  The following Friday, George was again invited to join the Royal Party, this time in Edinburgh, for a visit to the home of his friend, the Dunfermline born artist Sir Joseph Noel Paton. George must have impressed the future Queen as many years later she gave him a present of a signed copy of a portrait of herself, together with her grateful thanks. (8)
The 1881 census for Dunfermline shows George, recorded as a draper, and Janet, are now living in Comely Park with their seven children, whose ages range from seventeen to four. There are two female servants employed in the house. When George took his family to Comely Park is unclear but the fact that a silver penny, from the reign of Edward 1 of England (1272-1307), was found during 1878, in "the grounds of George Robertson, Comely Park", gives us a clue the Robertson's had, by that year at least, taken occupancy. (9) It should be noted the Comely Park we know today is not the Comely Park George and his family knew. This was the early name given to the street we now know as Park Avenue, the name change taking place when, on 8th October, 1894, Dunfermline Town Council accepted the road as a public thoroughfare. (10) To add to the confusion, the street we know today as Comely Park, was originally known as Comely Park Place.
On 27th and 28th July, 1881, Andrew Carnegie visited Dunfermline. With him were his mother Margaret and a group of friends, the party being involved in a coach trip from Brighton to Inverness. Whilst in Dunfermline, Margaret laid the Commemoration Stone at the Library, this being the world's first Carnegie Library. It is obvious Carnegie spent some time with George during this visit, as in his book "An American Four-in-Hand in Britain", Carnegie tells us when the party stopped to "salute the Stars and Stripes displayed upon the Abbey Tower, our friend Mr Robertson, Keeper of the Ruins, commented that no foreign flag had ever floated there before". (11) It is presumed when the comment was made, George was taking the Carnegie party on a guided tour of the Abbey and Palace.
On 25th August, 1881, Scotland's Volunteer Army, including Dunfermline's Volunteer Rifle Corps attended a Review, which was held in Holyrood Park, Edinburgh, in the presence of Queen Victoria. Captain George Robertson was one of the officers representing Dunfermline. This was the Review which, due to prolonged heavy rain, was described as the Wet Review. To make matters worse, on the return ferry journey across the Forth to Burntisland, a fierce easterly gale sprang up causing waves to be blown onto the decks of the various ferries, further soaking the troops. The ferry "Leviathan" actually struck the pier at Burntisland – and shortly afterwards sank! It is not known if the Dunfermline contingent were on board any of the ferries to Burntisland, they of course may have crossed between South and North Queensferry, but no doubt, due to the gale, even crossing at that point would have been an uncomfortable experience. (12)
The following year, Andrew Carnegie invited a group of Dunfermline's dignitaries to make a visit to America. The group included Provost Wall and his daughter, Bailie Walker and his daughter, and several others, including George Robertson and one of his daughters, probably Sarah. The party was led by Kenneth Mathieson, who was accompanied by his mother. This is the Kenneth Mathieson who was to marry George's daughter Sarah. The group left Dunfermline on Friday, 15th September, 1882 and set sail from Liverpool the following day on board the SS Servia, bound for New York. On arrival, the party was met by Andrew Carnegie, who immediately took charge. A tour of many of the cities and towns of America then followed, including New York, Niagara, Buffalo, Pittsburgh, where they were given a tour of the Carnegie steelworks, Chicago, Milwaukee, Minneapolis, Cincinnati, Washington, where at the White House they met President Chester Arthur, Baltimore, Philadelphia and finally, back to New York. The Dunfermline party eventually set sail from New York on board the SS Gallia on 1st November, docking at Liverpool on Friday, 10th November. After spending that night in a hotel in Edinburgh the party returned to Dunfermline the following day. The trip had lasted eight weeks and a day, during which the party covered a total of 10,544 miles, of which 3,700 were on American soil – no mean journey – to say the least! (13)
Kenneth Mathieson wrote an account of the trip which he entitled "How We Saw the United States of America", which was published in 1883. However, the title is somewhat misleading since, as can be seen from the list of cities and towns visited, the trip was confined to the north east of America. He also makes comment on the fact that he did not see anyone "careworn and overworked with incessant toil. They all seemed jolly, happy, vigorous men that I saw". Again, it could be said this is misleading, since it should be remembered he and the party were travelling by luxurious means at all stages, staying at expensive hotels and meeting those who had made a success of their lives. This would have given him little opportunity to meet others less fortunate and perhaps gave him a false impression of life in America. However, it must be said, Mathieson gives an interesting account of the trip with the places visited well described.
On Saturday, 13th September, 1884, George announced in a newspaper advert that he had taken the family drapery business into his own hands having purchased it from his late father's Trustees. The address given is now 6 Bridge Street which would indicate he has possibly concentrated the entire business under one roof instead of two as previously indicated. (14) In a later advert he advertises he has a wide selection of goods for sale and states he has employed a cutter – "Robert Brown – who has large experience in Edinburgh and Glasgow and who is sure to give satisfaction". He advertises for sale suits priced between 50/- and 80/-, trousers priced between 12/- and 24/- and finally, overcoats priced between 30/- and 60/-. He states "all can be made to measure within five days." (15)
On Tuesday, 2nd June, 1885, George had the pleasure of seeing his eldest daughter Sarah married to Kenneth Mathieson, the marriage taking place at "Abbeygate House", Dunfermline. It is believed this is the name given, possibly by George, to his house at Comely Park. In the newspaper intimation, George is said to be a Merchant and Keeper of the Abbey. Kenneth is recorded as being an Iron-founder. (16) In later years Sarah became Secretary of the Clan Donnachaidh (Robertson) Society, a post she held for many years. The Robertson family suffered a further bereavement when on Thursday, 16th June, 1887, George's mother Susan died. This took place at her home at 5 Bruce Street, Dunfermline. She was 79 years old. (17)
George was obviously a man prepared to advertise his drapery business as is shown in the Dunfermline Press newspaper dated 10th September, 1887, where he advertised his forthcoming Autumn Sale. Apart from the usual drapery goods available for purchase, George also advertised he had available "liveries for servants", a few examples being – Coachman's suits – priced between £3.15/- and £5.15/-, Footman's suits – priced between £3.15/- and £4.15/-, Box greatcoats – priced between £4.4/- and £5.7.6d, Leather breeches – priced £3.10/-, Livery gaiters – priced 12/-, Livery hats – priced between 10/6d and 15/-, and finally – Cockades – priced between 2/- and 2/6d. The advert then tells us all items would be 10% less during the sale. George obviously had an eye for attracting the wealthier class of customer as these would be the only type of customer likely to require such items. George also advertises he is a clothier, hatter, hosier, glover and naval and military outfitter – which would appear to indicate he was attempting to cover all necessities.
Another advert, which appeared in the Dunfermline Press newspaper dated Saturday, 29th, September, 1888, now gives us the information George has decided to retire from business. The advert tells us he is holding a clearance sale of his entire stock which "embraces the newest articles of Gents wear in cloths, tweeds, rugs, plaids, shirts, scarfs etc". He goes on to say he will retire at Martinmas next, which means the month of November. Why George is retiring at this time is not explained, after all he is only 52 years old, but what follows next might give the reason.
The 1891 census for Dunfermline shows George, described as Keeper of the Abbey, his wife Janet, two daughters and a son, have moved from Comely Park and are now living in St Margaret's Street. They employ a female domestic servant and a ladies nurse and this latter person gives us a clue to why he retired at such an early age as there seems little doubt the ladies nurse was attending to Janet. This appears to be confirmed when, on 21st July, 1892, aged 50, Janet died. (18)
Examination of the 1901 census reveals George has once again moved house. This census shows he is now living in Abbey Park Place with two daughters, Janet and Christina, his six year old granddaughter Janet Hutchins and his niece Daisy Robertson. He employs one female servant. Janet Hutchins is the daughter of George's daughter Susan, who married William Hutchins, a Solicitor. Daisy Robertson is the daughter of George's brother Robert.
When the move took place is unclear, but it is known by 1905 George had left Dunfermline and is staying with his daughter, Susan Hutchins, in Burntisland. Evidence of this is found in the Dundee Courier newspaper, dated 9th January, 1905, which tells us George, despite now residing in Burntisland, was still H.M Board of Works Custodian of the Abbey and Palace ruins. The newspaper article tells us George was making a visit to Dunfermline in connection with discussions being carried out regarding the laying out of the grounds within the Palace ruins.
How long George remained as Keeper (or Custodian) of the Abbey and Palace ruins is unclear but, whilst referring to the number of letters which passed between George and Ebenezer Henderson, the St Andrews Citizen newspaper, dated 1st October, 1910, states George was at that time the "late custodian of the Abbey and Palace" and therefor was no longer in post. George remained in Burntisland with his daughter Susan Hutchins, but shortly after her death on 28th June, 1915, (19), he moved to Glendevon to live with his eldest daughter Sarah Mathieson, and it was here on 17th February, 1916, he died. He was 80 years old. (20)
It is stated at the beginning of this article there is no family connection between George, the Abbey Keeper and the author. However, there are several similarities due to both being interested in the history of Dunfermline, giving lectures and writing articles on the subject and leading guided historical walks around the Abbey and Palace – surely a coincidence of some sort.
References.
1. Fife Herald, 19th October, 1871.
2. Dunfermline Journal, 19th February, 1916 – Obituary.
3. Dunfermline Journal, 11th October, 1913.
4. Fife Herald, 22nd July, 1858.
5. Fife Herald, 10th June, 1847.
6. Dundee Courier, 20th February, 1908.
7. The History of Hay & Robertson Ltd., by Hugh Walker, Pp 4-5.
8. Dunfermline Journal, 19th February, 1916 – Obituary.
9. Annals of Dunfermline, by Ebenezer Henderson, Pub. 1878, P.707.
10. Anent Dunfermline by Daniel Thomson, Vol.2, Item 825
11. An American Four-in-Hand in Britain by Andrew Carnegie, Pub. 1894, P.284.
12. Daily Review (Edinburgh), 27th August, 1881.
13. How we saw the United States of America, by Kenneth Mathieson, Pub. 1883, various pages.
14. Dunfermline Saturday Press, 13th September, 1884.
15. Dunfermline Saturday Press, 4th October, 1884.
16. Morning Post, 5th June, 1885.
17. Dunfermline Saturday Press, 18th June, 1887.
18. Fifeshire Journal, 28th July, 1892.
19. Scotsman, 29th June, 1915.
20. Dunfermline Journal, 19th February, 1916 – Obituary.
Thanks is given to the following, who gave their knowledge and assistance so willingly and which was gratefully accepted by the author – Sue Mowat, Bert McEwan, Jean Barclay, Frank Connelly, Linda Booth and the staff at the Local Studies Department of Dunfermline Carnegie Libraries and Galleries, (DCL&G), especially Sharron McColl.